Park & Ride
Park and ride lots provide opportunities to safely and conveniently access a wide range of transportation modes including transit, bicycling, car sharing, and ride sharing. Individual lots are managed locally so please consult local resources where available before planning a trip.
Local Park & Ride information: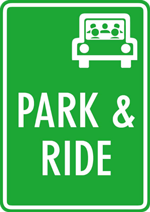 Download the official Oregon Park & Ride Directory. This directory contains maps plus information about lot amenities and nearby transit connections. For a free hard copy, contact ODOT.