Oregon Scenic Byways
Click on the numbered icons on the map for information about Oregon's beautiful scenic byways, or scroll through the list below the map. Or download an updated PDF of all our scenic byways.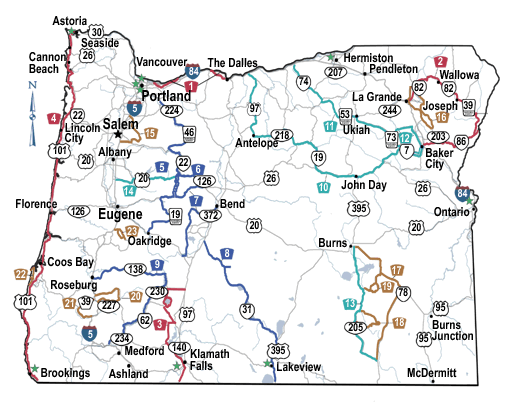 Oregon's two major interstates connect our largest cities to each other and our neighboring states. But despite the diverse and dramatic scenery that's revealed along each one, you simply can't appreciate Oregon from the fast lane of the freeway. So take a few hours (or a few days) and explore some of our roads less traveled. They can escort you along a rollicking river or a rugged coastline. They can guide you to the base of a majestic peak or the edge of a massive canyon. Granted, these routes may not offer the fastest ways to get around Oregon. Yet whichever one you happen to be on, you're sure to get quite a rush.
Two of Oregon's Scenic Byways have been honored as All-American Roads, placing them among a handful of the most treasured routes in the country. Four others have been designated National Scenic Byways for their outstanding qualities. These and six more Oregon Scenic Byways are clearly marked with signs along the routes. In addition to these twelve byways, there are four Tour Routes, rural roads that have been selected for their unique regional appeal. Many of the byways and tour routes travel through remote areas where gas stations are few and far between. So "fill'er up" when you have the chance. Since road and weather conditions can be hazardous, especially at higher elevations, we urge you to check this website for road and weather conditions before heading out.