Passenger Rail & Bus Service

See what happens along the way with Amtrak Cascades! Let someone else do the driving. Enjoy a hot cup of coffee and a snack from the Bistro while you use the Wi-Fi and relax in roomy, comfortable seats. Check out our current schedule for times.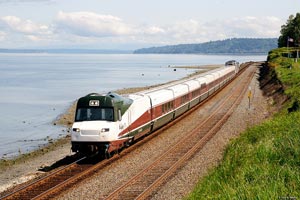 The ODOT Rail and Public Transit Division oversees the management of the Amtrak Cascades , intercity passenger rail , service along the Pacific Northwest Rail Corridor , one of 11 federally designated rail corridors in the United States. Amtrak Cascades is funded by ticket sales and sponsorship by ODOT and the Washington State Department of Transportation (WSDOT).
Amtrak Cascades is Oregon's only intercity passenger rail service that connects Eugene, Albany, Salem, Oregon City, Portland and cities north of Oregon to Vancouver, British Columbia via Seattle. Each Amtrak Cascades train typically consists of 13 cars and seats approximately 270 passengers, with space for up to nine mobility-impaired passengers and a Bistro car that serves Pacific Northwest food and beverages. There are six Amtrak Cascades trainsets and each is named after a Northwest mountain — Mt. Rainier, Mt. Hood, Mt. Baker, Mt. Olympus, Mt. Jefferson and Mt. Bachelor.
Choosing to travel on Amtrak Cascades will allow you to choose an environmentally friendly and relaxing travel option. You can choose to have productive travel time or a relaxing trip while saving money as compared to driving alone or air travel.

In Oregon, the Amtrak Cascades is coordinated with the Cascades POINT bus service . This service provides an additional, higher-frequency option for daily travel between Portland and Eugene. It stops at all the same train stations as the Amtrak Cascades and makes important connections to both local transit and other Amtrak services.