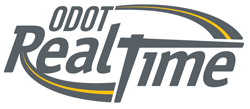 Know as you go.
ODOT RealTime signs give you up-to-the-minute traffic information and advisories so you can get where you're going safely and efficiently. The video below shows how you can stay on top of traffic conditions in real time - without ever taking your eyes off the road.
For feedback or general questions about the ODOT RealTime system, please contact Ask ODOT at 1-888-275-6368 or email Ask.ODOT@odot.state.or.us.
To report a sign that appears to be malfunctioning, call our Traffic Operations center at 503-283-5859.
For specific information on ODOT RealTime on OR 217 and I-5/I-405, visit http://www.oregon.gov/odot/regions/pages/region-1-portland-metro.aspx.
ODOT RealTime is expanding in Region 1. Learn more about ODOT RealTime: East/West Connections.